---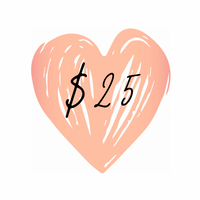 The gift everyone loves

Thank you so much for shopping small and thinking of Ella G Boutique as a gift for your friends and family.  Gift cards are an easy planned or last minute gift idea.  Great for your sister, girlfriend, wife, teachers, best friend, great for teenagers and adults fitting into women's clothing size S-3X.
$25 Gift Card. Once purchased, you will receive an email with your gift card, including a promo code and instructions to redeem.
$25 gift card
virtual/e-gift card
will receive email with your gift card (to print out or keep as an image) including private promo code
These are in stock items and will be emailed upon purchase.