---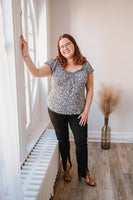 Comfortable and Trendy Business casual pants you need in your closet
You'll love the comfortable fit of these black pants with a bottom slit. Super trendy so you can peep your shoes popping out of the bottom.  Elastic Waist band for a super comfortable fit. True to size with good stretch.
Bottom Slit Black Pants in Plus.  Stay true to size.  Thick nice quality black business casual pants.  Wear for work, a night out, date night, ladies night, cocktail event with a cute top. 
Elastic Waist Band
Plus size only
front leg slit for a great view of your shoes
black
comfortable
In stock item. local to bucks county, pa. ships 24-48 hours upon purchase. ships in US.