---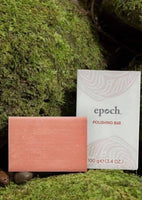 The soap free exfoliating polishing bar that has so many amazing uses
This polishing bar has so many uses.  It is most recommended to use to exfoliate prior to applying your self tanner.  Also is great for those who suffer from eczema and keratosis pilaris (aka chicken skin, those small bumps that mainly show up on back of arms and thighs.

Polishing Exfoliator Bar. Contains glacial marine mud and sisku'pas (ground bark) used by Native Americans of the Pacific Northwest to smooth skin.
Soap Free
All over deep cleanser
Sloughs of dead skin cells
leaves a smooth, clean feeling
gently polishes the skin
removes dirt, excess oils, and other impurities
safety - dermatologist tested
Vendor: Nuskin
This is an in stock item and generally ships 24-48 hours upon purchase.