---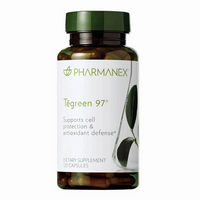 Tegreen 97 includes Catechins found naturally in green tea which are shown to support healthy cell function and structure by neutralizing harmful free radicals.
Increasing evidence suggests that the therapeutic effects of green tea are mediated by tea polyphenols.  Tegreen 97 provides triple action cell protection by supporting the body in neutralizing three cell0jeopardizing substances: free radicals, nitrosamines, and potentially harmful toxins. 
Any adult concerned about long-term cell health and their antioxidant status should take Tegreen 97. Individuals with a hectic, busy or stressful lifestyle, or those frequently exposed to pollution may also find benefits from Tegreen 97 supplementation. 
Take 2-4 daily.